Word's most popular debate is Messi vs Ronaldo. When we are talking about comparison between these two legends, then more results comes like Messi is better than Ronaldo..Why?? Lets go through all the key points that clears why Messi is better than Ronaldo. Soccer fans around the globe debates Messi vs Ronaldo until they are out of breath. Everyone is searching for Who is best players in the world Messi and Ronaldo? Who scored more goals Messi or Ronaldo. How many goals has Messi scored in his career? How Many Goals does Ronaldo have in his career? So lets clear all your questions regarding these two legend.
Both Messi and Ronaldo play in La Liga and the Champions League, There must be something in Messi that make Messi better than Ronaldo. What are those qualities/ Skills that makes Magician Lionel Messi different from Cristiano Ronaldo. No doubt that Cristiano Ronaldo is one of the great athlete, worked hard in his career and achieved lot many things. The hard work paid off.
Here's why Messi is better than Ronaldo …
Messi is faster than Ronaldo
Ronaldo is a very fast player but Messi is Faster and accurate than Cristiano. Messi has also tackled 3-4 defenders at a time with his speed skills. People thinks that Ronaldo has more height and he can run more faster than Messi. But in actual Messi put small steps in very fast moments that makes him more faster than Ronaldo. That's why Messi is better than Ronaldo. According to John Dorsey of ESPN, "in a game built on speed and agility, there are few soccer players faster or more agile than Argentina's Lionel Messi." Where Messi can shine the most is in his initial acceleration.
Messi is more creative than C. Ronaldo
You can say Messi is a god gifted. He is more creative than any other players in his team and in the football history. Former England Manager Fabio Capello also claimed that Messi is more creative than Ronaldo. If you have noticed Leo Messi playing, his strong vision of his surrounding allows him to get the ball at the best possible place so that his team player or himself can attack wisely. You must admit that Messi is one of the best football player who have kept his personally as high as eagle. This creativeness makes Messi better than Ronaldo.
Leo Messi has better passing ability than Cristiano Ronaldo
This is the most important thing that makes Messi better than Ronaldo. No one can pass the ball like Leo Messi do. He has very strong vision and smart mind that helps him to pass the ball in perfect direction. The way he tackles the player from opposite team is a praise worthy. He has got the better passing ability than Cristiano Ronaldo. His passing skills are absolutely fantastic and praise worthy. Ronaldo might scored many goals with his different body parts but he can never pass the ball with the same accuracy Messi does. This is why Messi is better than Ronaldo.
Messi is much disciplined than Ronaldo
In the 2012-13 season, Messi only had two yellow cards all season long and picked up three yellow cards in 2013-14. That was compared to Ronaldo's total of 16 yellow cards and one red card in 2012-13, and ten yellow cards and one red card in 2013-14. That trend continued in 2014-15, where Messi picked up just four yellow cards in all competitions for Barcelona, whereas Ronaldo was carded seven times, including one red. Keeping your composure is very important in soccer because of its team component, and it seems that Messi has the historical edge in this category. Messi also did not pick up a yellow card in five games at the 2010 World Cup for Argentina in South Africa. Ronaldo has had eight red cards since his rookie season in 2003.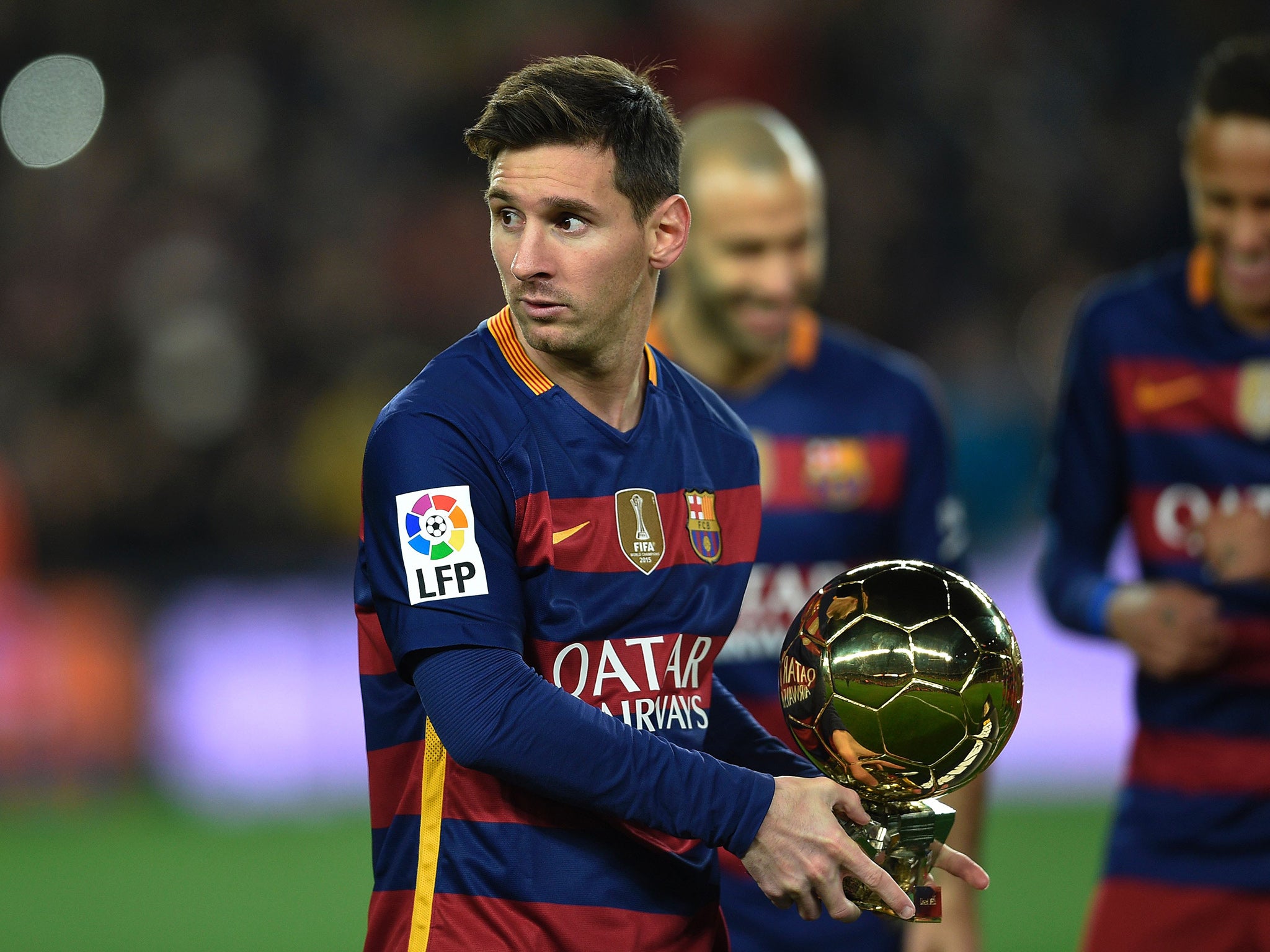 Messi has more Awards than Ronaldo
who has more awards Messi or Ronaldo? No player other than Lionel Messi or Cristiano Ronaldo has won the Ballon d'Or since 2008. Since 2007, Leo Messi has won 5 Golden Balls, 4 Silver Balls and 1 Bronze Ball. Since 2007, Cristiano Ronaldo has won 4 Golden Balls and 5 Silver Balls. this clearly indicated that Messi has more awards than Ronaldo. Along with it Messi has many world records. Messi is the only player to score 40+ club goals in 7 consecutive seasons. Guinness World Records title for the most official goals in a calendar year: 91 goals (2012). There many more things that proves Messi is better than Ronaldo.
Messi is a team player while Ronaldo is selfish
Yess !!! This is true that Messi plays for team while Ronaldo plays for himself. Ronaldo is always in a way to make his own records rather than thinking of his team. On the other hand Messi passed the ball to the right person who can goal quickly even if Messi can goal wisely. This personality makes Messi different than Cristiano Ronaldo. There is no doubt that Ronaldo is great player, But some of the quality and attitude gives his reason to get compare with Messi.
Messi has high accuracy than Ronaldo in Shooting a Goal
One of the most important statistics while comparing two player is accuracy.  Ronaldo scored three more goals than Messi in the 2013-14 La Liga season, but also took 56 more shots than his rival. Ronaldo had 31 goals on 216 shots for a shooting percentage of 14.4%, compared to Messi, who notched 28 goals on 160 shots for a shooting percentage of 17.5%. Even though Ronaldo is highly praised for getting more goals than Messi, Ronaldo is off target in the more cases than Messi. Shooting a goal is more dangerous when its Messi for a keeper than Ronaldo. Messi's High accuracy for making goals makes him better than Ronaldo.
So these are some examples that explains why Messi is better than Ronaldo. If you have any suggestion, let us know in the comments below. Frequently asked question id Who is better Messi or Ronaldo? So here is the comparison and it clearly explains that Messi is better than Ronaldo. Both of them are great players and role models for all the football lovers as well as football players.
According to you who's better Ronaldo or Messi? – Vote Now !!!