India is all set to host Sri Lanka for 3 ODI's, Tests and T20I starting from the month of November. India vs Sri Lanka 2017 Schedule has been revealed and after the emphatic win against the Aussies, the team is gearing up to back the trophy against Sri lanka. With the availability of India vs Sri lanka 2017 schedule pdf, you can have a handy timetable with you so that you remember the dates.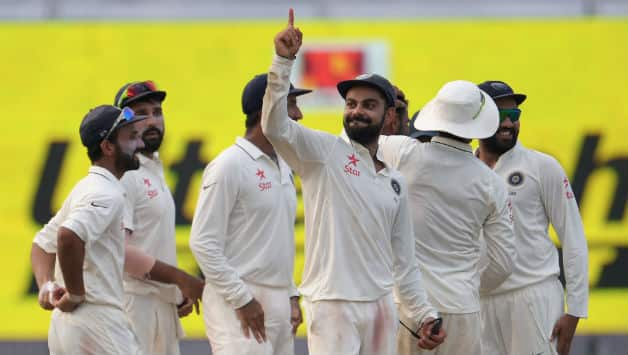 India is seen testing new talent in the final matches against Australia and in the absence of R.Ashwin & Ravinder Jadeja, the team is getting trained to acquaint with the new players who are delivering their best to the team. Virat Kohli has been seen testing the slots by shuffling the players up and down & this has helped to decide the potential of the players in the respective tested slots. Hardik Pandya & Rohit Sharma being in their ace form, it would be a pleasant sight to watch them play against Sri Lanka. Get your hands on India vs Sri Lanka 2017 Schedule.
India vs Sri Lanka 2017 Schedule
India had won all the 3 Tests, 5 ODIs & one-off T20I prior this year, this has made the Indian team the 1st to attain whitewash against Sri Lanka in all 3 formats of the game. Sri Lanka is also ready to bounce back but considering the form Team India is in, they will have to play with their ace cards on the field. India vs Sri Lanka 2017 Schedule revealed the dates so that every fan can book their tickets for the match.
Here's the timetable of India vs Sri Lanka 2017 November – December Matches –
| | | |
| --- | --- | --- |
| Tests | Date | Place |
| 1st Test | 16th – 20th Nov 2017 | Kolkata |
| 2nd Test | 24th – 28th Nov 2017 | Nagpur |
| 3rd Test | 2nd – 6th Dec 2017 | Delhi |
| ODI | Date | Place |
| 1st ODI | 10th Dec 2017 | Dharamsala |
| 2nd ODI | 13th Dec 2017 | Mohali |
| 3rd ODI | 17th Dec 2017 | Visakhapatnam |
| T20I | Date | Place |
| 1st T20I | 20th Dec 2017 | Cuttack |
| 2nd T20I | 22nd Dec 2017 | Indore |
| 3rd T20I | 24th Dec 2017 | Mumbai |
The tight schedule for the series against Sri Lanka clearly tells India's tour of South Africa has been delayed. India will play their 1st test match against South Africa in Capetown on 5th January 2018. With that being said, India vs Sri Lanka is going to be an important series to test new players and identify the players in form like Rohit Sharma. So that once the playing 11 squad is rigid & set, they can easily wash out the mighty South African team.
With India being the No.1 team in ODI and Test Format, the Virat Kohli brigade will try to capitalize on the Sri Lankan matches to defend the top spot. India vs Sri Lanka 2017 Schedule PDF has been released on Sportsgyaan where this would help you in buying the tickets for the matches. Kindly save this link for India vs Sri Lanka 2017 Fixtures.
India vs Sri Lanka 2017 Schedule PDF