India vs Australia 2nd T20 Highlights
Watch India vs Australia 2nd T20I Highlights: India tour of Australia
India vs Australia 2nd T20 played at Melbourne Cricket Ground, Australia. After winning IND vs AUS 1st T20, India played the next game against Australia. Australia won the toss and elected to bowl first. India lost 4 ODI against Australia in a sequence and then India won the last 5th ODI. Then India moved to defend Australia in 3 T20I series. Today, 29 Jan 2016, India played great inning. After winning the 1st T20I, India prepared itself to defeat Australia in 2nd T20. Get India vs Australia 2nd T20 Highlights here.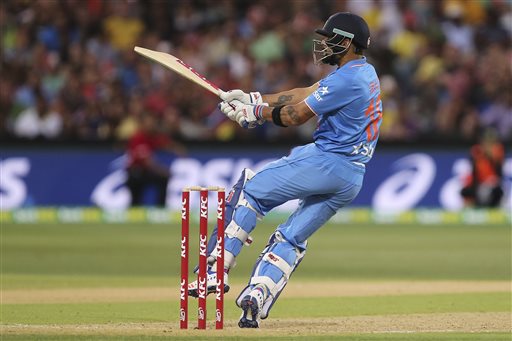 India vs Australia 2nd T20 Highlights Jan 29, 2016
Team India could wrap up the T20I series today! Tune in to see how @msdhoni and his team fare! #AUSvIND pic.twitter.com/fndmsTXMpA




— Star Sports (@StarSportsIndia) January 29, 2016
India vs Australia 2nd T20I : India Inning
Two great Indian opener R. Sharma and S. Dhawan entered into the ground and S. Watson was the first to bowl. The staring of India inning was great. The partnership of R. Sharma and S. Dhawan move score to 97 runs. And finally Australia got India's first wicket on 97 runs. Shikhar Dhawan 42 Runs/ 32 Balls/ 3 Fours/ 2 Sixes. Then the next partnership added more 47 runs. India's 2nd wicket gone on 143 runs. Rohit Sharma 60 runs/ 47 balls/ 5 Fours/ 2 Sixes. Next man of the India team M. S. Dhoni added significant score. Today the performance of Dhoni was not much attractive. Dhoni added 14 runs only and was going for helicopter shot, He got the hight but not the distance as S. Watson takes a simple catch. India lost the next and last wicket M. S. Dhoni 14 Runs/ 9 Balls/ 2 Fours/ 0 Sixes. India scored total 184 runs in 20 overs and made a target of 185 runs for Australia.
Virat Kohli on this tour: 91, 59, 117, 106, 8, 90* and 59* 530 runs in 7 innings (Avg 106.00, SR 112.28) #AUSvsIND

— Rajneesh Gupta (@rgcricket) January 29, 2016
India vs Australia 2nd T20I : Australia Inning
The target for Australia was 185 runs from 20 overs. Australia had a bad start but still partnership of M. Marsh and A. Finch scored 94 runs. Finally Australia lost its first wicket. Shaun Marsh 23 Runs/ 23 Balls/ 2 Fours/ 0 Sixes. After first wicket Australia lost 2nd wicket in the next over. Chris Lynn 2 Runs/ 4 Balls/ 0 Fours/ 0 Sixes. Then Australia started losing one after one wicket. In the next over, Australia lost 3rd wicket, Glenn maxwell 1 Runs/ 2 Balls/ 0 Fours/ 0 Sixes. Australia lost wickets at regular interval. After every 1-2 overs AUS was losing wickets. So the next wicket achieved by India, Shane Watson 15 Runs/ 11 Balls/ 2 Fours/ 0 Sixes. Just in next over AUS lost the next 5th wicket of Aaron Finch 74 Runs/ 48 Balls/ 8 Fours/ 2 Sixes. This inning was having more wickets than runs. Then Faulkner hits ball very high and it was six. What a strike that was. After 1 ball third umpire reviewed for a stumping and it was out. James Faulkner 10 Runs/ 7 Balls/ 0 Fours/ 1 Sixes. Wade hits a six in the next over and Australia needed 40 runs from 14 balls. India successfully took the next 2 wicket in last over. John Hasting 4 Runs/ 6 Balls/ 0 Fours/ 0 Sixes. In the same over on last ball Australia lost his 8th wicket. Andrew Tye 4 Runs/ 4 Balls/ 1 Fours/ 0 Sixes. And finally Australia failed to score 185 runs. Australia scored total 157 runs at lost of 8 wickets in 20 overs. 
India Beat Australia by 27 Runs
Such a grand victory will possibly make Indian team management believe that they have found the ideal combination for the upcoming T20 World Cup but it will be a mistake. Kohli's 59 boosts Indian total. This was all about India vs Australia 2nd T20I Highlights. Stay connected with us to get latest Sports News.