People encountered the most exciting match of the World T20 2016 today and this match India vs Bangladesh was a serious nail biting one. The match was almost gone before 3 balls were to be bowled. But last 3 wickets in Pandya's over turned the tables for Bangladesh. All the Indians fans had made up their mind of watching their team out of World T20 but still the hopes were there with everyone praying for India's win. With hearts of the folks pumping faster than ever, the match took a different way the last 3 balls, prayers paid off and everyone heaved a sigh of relief as India won the match by single run.
IND vs BAN 1st Innings (India Batting & Bangladesh Bowling)
The match started with Bangladesh winning the toss and electing to field first. The match no. 25 that started at M Chinnaswamy Stadium had a lot of excitement rolling over people's mind. Rohit Sharma and Shikhar Dhawan started off India's account where the duo scored 18 runs and 23 runs respectively. Virat Kohli and Suresh Raina scored 24 and 30 runs respectively. Then after couple of wickets MS Dhoni and Ravindra Jadeja took over the play to set up a competing total. Finally at the end of 20 overs, India made 146 runs and set up 147 Runs as the winning target to the Bangladeshi team.
India vs Bangladesh 2nd Innings (Bangladesh Batting & India Bowling)
The target set by India was easily achievable to Bnagladesh as they have chased way more competing scores than this. India were around 10-15 runs short. Whether these runs would have been made, the run rate of India would be much better. Bangladesh batting started with Tamim Iqbal and Mohammed Mithun. Sabbir Rahman and Shakib ul hasan played a remarkable knock. Mahmudullah ya Soumya Sarkar were at their best and about to won the title of today's match. But Bangladesh lost 3 wickets of 3 balls in the last over and thereby they changed
India vs Bangladesh T20 World Cup 2016 Last Over Highlights
The last over was given to Hardik Pandya where he was hit for two fours in the initial balls of final over. But the last 3 balls were match winning for India. Thanks to Pandya and Dhoni. The 4th ball encountered a wicket of M Rahim and on the 5th ball, Mahmudullah was out. The last ball was the breathtaking and both the teams were experiencing huge pressure.
If MS Dhoni would not have run to the stumps and get that run out then probably we would have got to witness a super over. But nevertheless India won the match where Bangladesh missed out winning. It was a tough decision to make whether to throw the ball to the stumps or to run as hard as possible to get the Bangladeshi batsman out.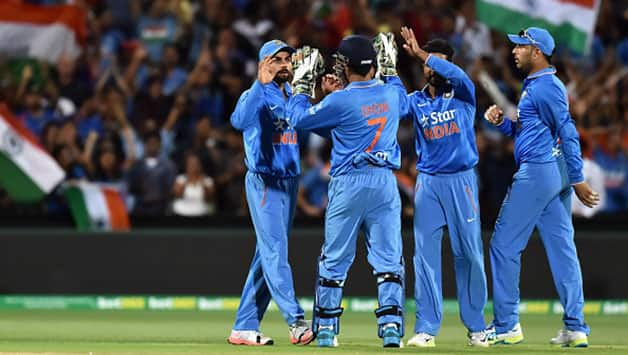 India vs BAN Today Match Result
India won the match with single run where they are still having a place in the world cup 2016 and now the game will be on between India vs Australia, a must win game for both the teams. This breath taking match is seriously worth watching therefore catch the video of India vs Bangladesh T20 Highlights that we encountered today.
India won by 1 run.